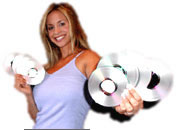 Preserve Your Memories!
Transfer Your Movies to DVD!
Did you know that your home videos are fading away?
Even 5 years old videos are on their way out!
Even if you currently don't own a DVD Player or Computer, you better transfer your video taped movies to a safe media now, before it's too late.
Protect your home videos NOW, time is running out!
For DVD Authoring Please Read Here >>
VHS tapes
DVD
VHS analogue video tape has an expected life of between 5 and 20 years. During that time playback quality deteriorates greatly.
Long life (properly handled discs may live even 100 years). Videos Fade over time, DVD's don't.
VHS tapes are losing quality just by lying on a shelf. And each time you play a cassette, a VCR head is rubbing the tape, slowly erasing its content.
Video media is magnetic and can be affected by magnetic devices such as speakers, monitors and other magnetic field producing devices.
DVD player is an optical device and there is not physical contact with the disk surface. Quality does not degrade with each playback. Menus - (Play video clips by selecting from an indexed menu) Indexing, find scenes easily and fast. Instant access to the point of the movie
Over the time the following defects take place:Colour Bleeding, Loss of Synchronization, Noisy Cassettes, etc. The process is irreversible until complete loss of the video signal.
Quality does not degrade over the years.Convenient disc format, easy to handle and store. Take up less physical space.
The tape itself may be "chewed" by the VCR and destroyed completely. If it's your only copy it's gone forever!
DVD formats don't get chewed up in your player (Unlike Video Tapes)
Preserve Your Irreplaceable Memories Before They Disappear Due to Video Tape Degradation.
So, before your Wedding Video, Family Videos or Demo Tape falls apart completely, get it converted to a fully authored DVD just like those you buy in the shops!
Move Your Training and Presentation Videos to DVD. Make it Easier and More Professional! Now!
If you want your memories to last and you want your grandchildren to see in AD 2020 that you had a great time during Sydney Olympics '2000, DVD is a clear format of choice.
Conversion will maintain current quality, it cannot improve it.
Playback faults or problems on your tape will be transferred to the DVD.
But it will prevent further loss of the quality of your movies.
Internet compatible Streaming Video options available too.
So anyone of your relatives & friends from all around the world can watch it.

---